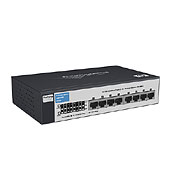 When I recently switched to Cacti for graphing my network, I ran some network speed tests and noticed that the peak of the graph did not correspond with the actual network traffic.
The peak of the graph topped out at 140Mbit while I'd been transferring data at around 600Mbit. It turns out that this is a limitation of 32-bit counters that overflow after 5 minutes.
So I decided to switch to 64-bit counters in Cacti. I ran my tests again and this time my graphs were a total mess. According to the graph I'd transferred multiple terrabytes of data in just 5 minutes.
After some googling I found out that this is a bug in the HP1800-8G. That report is nearly a year old and several firmwares have been released for the HP1800-8G since then, all with the same bug.
So I've sent an email to HP to make them aware of this bug, I even received a response:
Dear Customer,

Thank you for using Hewlett Packard Customer Service.

This info has been send to the division and in a later Firmware update this issue will be adressed
unfortunatly there is no timeframe known for this fix yet.

Best Regards,

Hewlett Packard Customer Service
Doesn't sound very convincing, but I hope the next firmware release fixes this annoying bug.