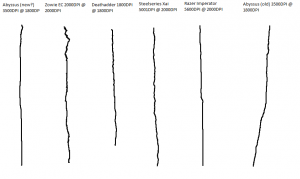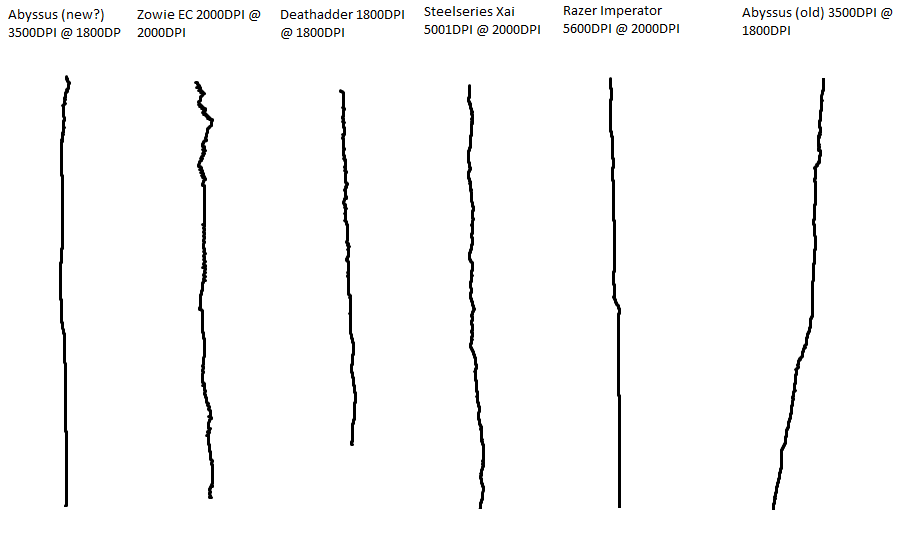 Here's a little test comparing a bunch of different mice and sensors.
With all mice I tried to move straight down on a Razer Goliathus Speed cloth pad while drawing a line in MS Paint.
All mice had prediction aka drift control disabled so the lines aren't artificially straightened by the mouse.
As you can see in the picture the mice varied quite a bit in their behaviour. Judging by the picture you might think that both the Abyssus and Imperator had excellent performances while the Zowie EC2 and Xai didn't do so well.
But what the picture doesn't show is the amount of negative acceleration experienced during this test. The Imperator slowed to a crawl, forcing me to move it quite a bit further to get the same line.  None of the other mice showed this behaviour and surely the "Dynamic DPI scaling" of the Imperator is the problem here.
What is clear from the picture is how horrible the Zowie EC2 is on a Goliathus Speed mousepad.
Taking all these things in account, here's my final scoreboard:
Razer Abyssus (new)
Razer Deathadder (original)
Steelseries Xai
Zowie EC2
Razer Imperator
Razer Abyssus (old)