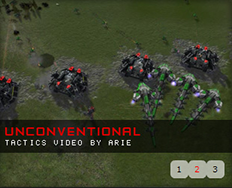 Supcom-Live just posted my second Supreme Commander video. It's called 'Unconventional Tactics' and shows off some interesting moves of top players. Because I took so long to make it, two of the moves/tactics have become kinda mainstream before the video got finished.
My previous video was also posted at Supcom-Live. That one was about a specific 'showmatch' between two top players. You can still see it here.
Every once in a while I spend a free day on making these videos. It takes a lot of time to capture, edit and encode the stuff. I'm planning on doing more of these 'tactics' videos. Supreme Commander is an amazing game that allows all kinds of tactics, so it doesn't look like I'll be running out of material to use in these video's.
I just need to find some spare time to make them.